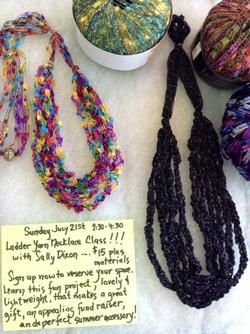 If you are looking for a fast and easy summer project, take Sally's Crocheted Necklace Class. Knitters - keep reading! You need zero crochet skills to succeed in this class. Sally will teach you everything you need to know. The class is Sunday, the 21st of July 2013. The fee is just $15 plus materials (an H hook and a ball of railroad yarn). Sally will supply the findings. As usual, materials must be purchased at Knit On!

Why do we require you to purchase your materials at our shop? So we can keep Tanner in cat chow. Girl, you know that ain't cheap.

So now that that's out of the way, we hope to see many of you at class. These necklaces are great. They make up really fast. You could knock out several of these during a double feature at the Starlite Drive-In Theater. BONUS: Popcorn "butter" won't show on the nubby textured yarn. You can wear them, give them as gifts or make your fortune selling them to friends, co-workers and second cousins at your family reunion. And best of all, the class gets you out of the house for a few hours. See? It's going to be a lot of fun! So call today to sign up for the class. 859-291-5648.