Ravelry Classes!


Are you on
Ravelry
, but have no idea how to use it?
Did you just say to yourself, "What's a Ravelry?"
If you answered YES to either of these questions, you need to pick up the phone right now to call Knit On! to schedule a Ravelry class with Laura. You have been missing out on the greatest knitting, crocheting and spinning website in the world. Four million fiberholics cannot be wrong!
Ravelry is a free website where you can join millions of your new friends in an orgasmic journey on the innerwebs. Imagine a convention center filled with people from all over the world who have brought their stashes and projects (both WIPs and FOs) and photos of their future projects. Now imagine there are break out groups where folks are discussing any topic you can possibly think of and groups where people are knitting or crocheting various themed items. (I recently learned of a group reading Agatha Christie mysteries while knitting patterns based on characters from those books.) Really, with over 30,000 different groups, there is something for everyone. The real problem is keeping yourself from joining 500 groups your first time on. Of course, the first group you will want to join is the Knit On! group.

Ravelry is FREE, but gas and cat food are not, so we are charging a modest fee of $15 for the class. You will need to bring a laptop or any other device that accesses the internet. CAVEAT: A smart phone is probably too small to learn on. Don't have a laptop or other devise? No worries. We will arrange to have something for your use. Be sure to let Laura know when you schedule the class. Call 859-291-5648 today to sign up for your private class. That's right - you will have Laura's full attention. That $15 is sounding like an even better deal now, isn't it? Call today!

Learn to Knit Socks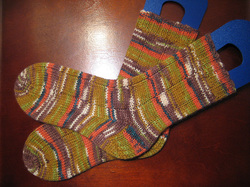 As we head into hopefully warmer weather, our thoughts turn to smaller projects that won't make us "glow" as we knit. A great small project is a pair of socks. Why are socks a great project?
Let me count the ways:

The whole project will fit into a quart sized bag.
You can amaze your friends by making socks using nothing but yarn and lots of little sticks.
In the alternative, you can amaze your friends by knitting a sock on one really long circular needle.
Usually one skein of yarn is all you need.
A half a skein of sock yarn will make a pair of footies.

Wool socks are great in the summer (absorb glowage from feet) and winter (warm and cozy).
Depending on the pattern, sock knitting can be mindless or challenging - something for everyone!
You'll finally understand what kitchenering is and know how to do it.
Socks make great gifts.
You can rack up lots of good karma by knitting socks for orphans who live in a really cold climate.
I'm sure there are many more reasons, perhaps as many as 101, in which case I will save that for an article I will sell to Interweave Knits and make my fortune, but I digress.
Starting April 5th, 2014 and continuing on April 12th and 26th (same year), Sally will be teaching a class on how to knit socks. This will be a lot of fun because you will get to knit socks with Sally and you will have a good reason to get out of the house for three Saturdays in April, thereby shirking your responsibilities at home. Hey, leave home on the 19th, too. Who will know there's no class? You are going to have to go out anyway to buy new Easter candy to replace all of the Easter candy you bought in early March and subsequently ate when you realized Easter was late this year and you could not resist those delicious Reese's eggs and sugary Peeps for an entire extra month. See? You really are a good person after all.

So call today to sign up for class. It is only $35 for all three sessions combined which is a lot less than you spent on that Easter candy. Class is 2-4 pm, but you can tell your children it is very difficult to learn how to knit socks (this is a lie), so mommy will be gone from noon until 9 pm. 859-291-5648. Call ahead to reserve your spot in class. Do it right now before you forget how much you really want to learn to knit socks. If the shop is closed or you are at work and cannot be overheard making a personal call, email us at kniton2004@aol.com with your name and telephone number.

As always, materials are extra and must be purchased at Knit On!. Yes, it all goes for cat food. Well, except for the part that goes for rent, payroll and every other expense we have. Thank you for your patronage. And don't forget to call or email. Right now.